Newmarket Garden Machinery Services
Established for over 45 years, Newmarket Garden Machinery Services (NGMS) stocks a comprehensive range of petrol, battery and electric garden machinery; from small garden mowers and strimmers to large ride on machines, plus robotics, barbecues and a large range of accessories. The company also employs experienced technicians providing servicing and repairs from the onsite workshop at its retail premises in Newmarket.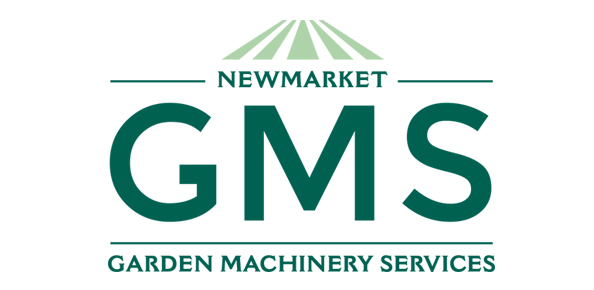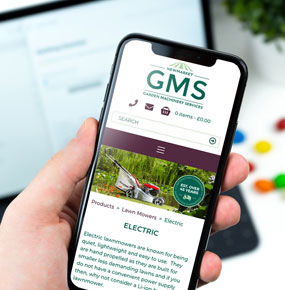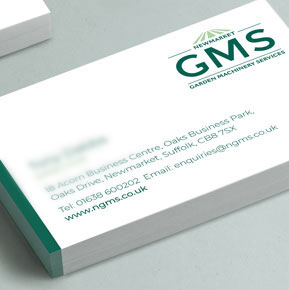 When Black Pig was approached NGMS had recently been purchased. It was moving into new modern premises and the new owner was keen to also introduce a more up to date brand image and interactive website. One of the main concerns was that sales, even from customers within the local area, were being lost due to the current website not offering the convenience of purchasing products online.
Black Pig started by redesigning the company logo. There were some challenges for our creative team to overcome concerning the length of the company name and whether it should be represented in full (for the benefit of new customers), or as the initials that existing customers were already familiar with. The client also wanted the new logo to highlight the business' long standing heritage within Newmarket. In the end it was agreed that the initials 'GMS' should be the prominent part of the logo but that 'Newmarket' and 'Garden Machinery Services' should also be included as they were essential parts of the brand message. Our brief was to use a colour palette from the natural world and so Black Pig presented and developed a range of options in different fonts and colours, from which a new logo with a more modern font and lawn stripe motif was chosen.
Once the logo was agreed we carried the new branding through into designs for the letterhead, invoice stationery and business cards. Black Pig also designed signage for the front of the new showroom and created social media assets for NGMS's presence on Facebook, Twitter, Instagram and LinkedIn.
For the new website two things were key – it must offer the ability to purchase online and be easy for the NGMS team to update. The site features and extensive but easy to navigate product section, allowing the user to search for an item either by category or by brand, and then filter their results. Clearly laid out product specifications enable customers to quickly see key information about a product. NGMS can display regular and discount pricing and can schedule special offer prices to appear on the site at the appropriate time. They can also flag products to display a 'New This Year' stamp or as 'Special Order Items'.
One of NGMS's key USPs is that they will deliver new machinery free of charge within a 30 mile radius. With the website now allowing customers to order online, potentially from anywhere in the UK, this meant that Black Pig had to create a 'postcode checker' to assess the customer's eligibility for free delivery before they reached the checkout stage.
Click here to view the website
Back to Work